Power Teaching and Learning
Literacy and maths are both taught using Mckie Mastery, which was developed at Grange Park. We continue to be the lead school in this unique and very effective way of teaching. We regularly have visitors from all over the country who want to observe the way we teach.
To find out more about Mckie Mastery please use the link below:
Our teaching cycle is based on the PTL cycle: Modelled, Guided Practice, Partner Practice and Independent Application. This is embedded across the curriculum with Core Power as the fundamental concept of all we do at Grange Park.
Intent
Our vision at Grange Park is that we strive to give every child in our school lifelong learning skills to empower them to choose the life they want. Through Literacy, we aim to deliver life skills to enable our children to become readers and writers for life. We believe that every child can achieve,
regardless of his or her starting point. Instilling resilience, we ensure that children achieve their best outcome.
Implementation
These aims are embedded across our literacy lessons and the wider curriculum. We have a rigorous and well organised English curriculum that provides many purposeful opportunities for reading, writing and discussion. Children excel in early reading through the use of the Mckie Mastery program from Nursery upwards. They develop a range of reading and writing skills alongside each other.Lessons aim to be lively, fast-paced, fun and interactive. Children are taught phonemes/digraphs/trigraphs, high frequency words and tricky 'red' words and these are consolidated through reading and writing. As the children progress through the school, they learn plan and edit their writing to ensure they are writing at the expected standard, or above.. They also develop an awareness of the topic, audience and purpose and an increasingly wide knowledge of vocabulary and grammar.
At Grange Park Primary School:
· Children read to an adult at home each night and also read 1:1 with a member of staff each day.
· Each classroom has a range of high quality texts, both fiction and non-fiction.
· Children work through our reading scheme until they become 'free readers', many of our Year 1 children are free readers!
· Texts for Literacy are carefully chosen to ensure children are engaged and that there is progression and challenge across the school.
· Children are set for Literacy and are taught through their 'stage, not age'
· Children are aggressively placed in groups and are assessed at the end of each eight week cycle.
· Through the Mckie Mastery teaching cycle, the children experience modelled reading and writing, are guided through the process and then have the opportunity to partner practice and apply skills independently.
· Through the systematic teaching of phonics in Reception and Year 1, we aim for children to become fluent readers by the end of Key Stage 1.
Children can then focus on developing fluency and comprehension throughout the school.
· We develop writing skills so that our pupils have the stamina and ability to write at the age expected standard.
· We provide opportunities for writing for a purpose and we encourage pupils to see themselves as
authors.
Impact
The impact on our children is clear: progress, sustained learning and transferable skills. All children leave Grange Park as life-long readers with a skills toolkit to enable them to continue their learning. With the view of broadening horizons for all, we ensure that all children are prepared for their individual learning path.
Celebrating Success
Our Facebook page is overflowing with examples of good practice. Here are just some examples from across the curriculum: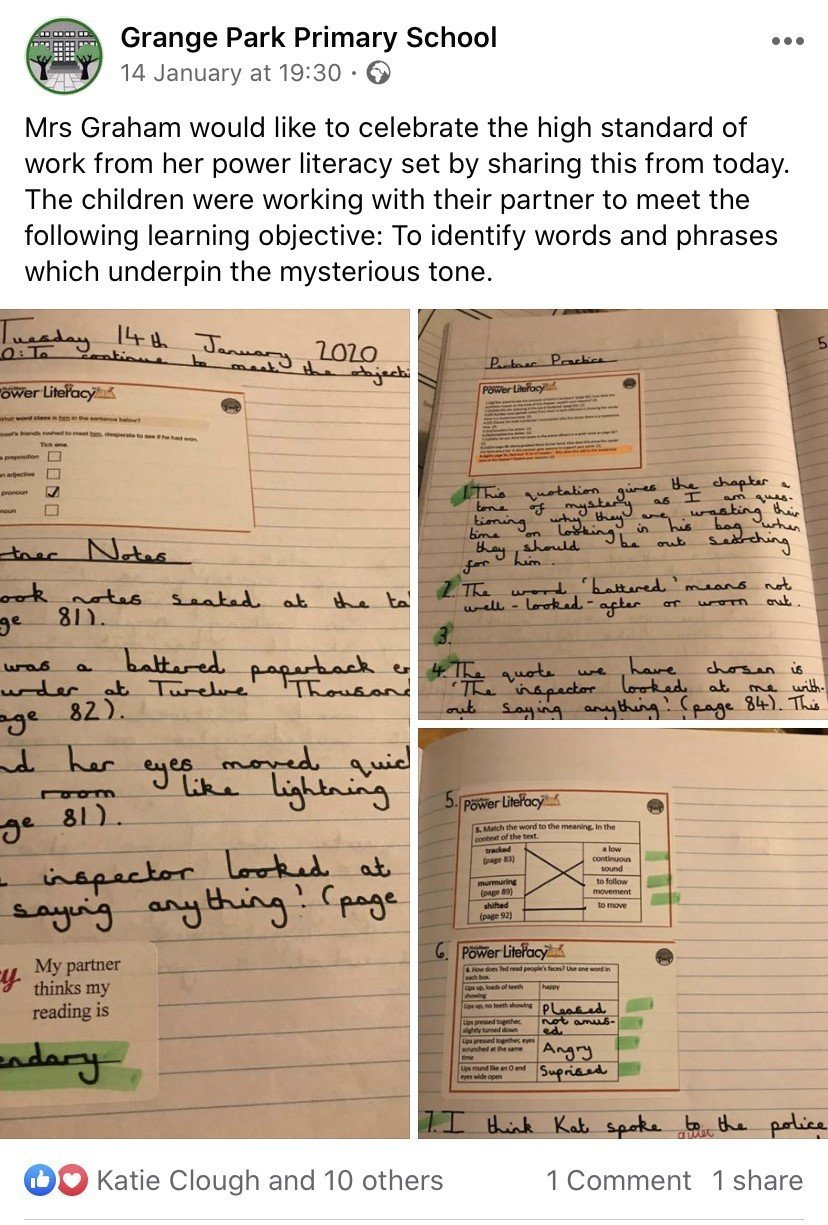 Everybody, Every Night
ALL children in Grange Park read at home, to an adult, every night. This ensures parental engagement, rapidly improves fluency skills and creates a home-school link. In addition, this also provides an opportunity, independent of a teacher, to read for pleasure rather than an activity. The children are regularly rewarded for reading at home every night.
At school, all children in KS1 are heard reading their home reader to an adult daily and in KS2, due to the implementation of Mckie Mastery, the majority of children are heard daily. We have a rigorous scheme in place so that every child counts and their reading voice is heard.
Lifelong Reading
At Grange Park, we continually seek ways to encourage children to read for pleasure. By doing this, they improve fluency and comprehension skills. We regularly set reading challenges. Our most recent is 'Captured Reading' just look at some of our amazing entries: