Things to Remember
Information for parents
At Grange Park the children come first. We ensure children are given as much support as possible both academically and emotionally. We are on Operation Encompass school. Please click the link below to find out more information. Operation Encompass
Holidays
Please note that we are unable to authorise any holidays during term time. The following document shows the school holidays for the upcoming academic years.
Meals
Grange Park is very proud of its school dinners. All meals are cooked on site in high quality kitchens and promote Sunderland Local Authority's drive towards Healthy Eating for our pupils.
We operate a three week rolling menu which is published weekly in the local press. Children are encouraged to try a wide range of foods which may be new to them.
The cost of a school dinner is currently £11.00 per week per child, £2.20 per day. and must be paid in advance on Monday morning at the beginning of the week. Parents can pay online via: https://www.sunderland.gov.uk/article/12033/Pay We will accept cash payments in school; if possible we would ask parents to pay online to support the reduction of money handling in school. Failure to pay could result in your child being refused a school meal and a packed lunch having to be provided from home.
From September 2014, all pupils in Reception, Y1 and Y2 have received a free school meal. Governors have made the decision that children in those three classes will NOT be allowed to bring in a packed lunch. Parents will, of course, have the option of taking their children home for lunch.
Some families of children in Y3 to 6 may be entitled to free school meals. For advice on this matter, parents can contact the school office (5490707) or may go directly to The Civic Centre, Awards Section (5611417).
If your child wants to change from a packed lunch to school meals, or vice versa, we will accommodate the change at the beginning of the next half term.
Children in years 3 to 6 can bring their own packed lunch in a suitable container. In line with the school's Healthy Eating Policy, we ask that parents do not include sugary food or drink, and avoid items which are high in fat or additives.
Parents who choose to provide a packed lunch must respect the School's Healthy Eating agenda. No chocolate bars, fizzy drinks or sweets. Banned items will be removed from the packed lunch and will be labelled with the child's name. Such items can be collected by a parent at the end of the school day. Uncollected items will be disposed of.
The School Meals Service will be happy to provide advice on any school food matters.
Uniform
Our uniform is available to purchase online.
Remember we also run our uniform swap shop. If your child has outgrown their uniform you can donate it to school. We also provide second hand uniform to parents on request. Please ask at the school office if you need any pieces of uniform.
See below for acceptable uniform.
Girls
Bottle green or grey skirt or pinafore dress
White Blouse
White or bottle green polo shirt
Bottle green cardigan, jumper or hoodie
Grey or black trousers
Tights: bottle green, grey or black
Grey or black leggings can be worn under a skirt
Black flat school shoes- no fur boots or shoes with coloured laces or stripes.
Green and white checked dress
Boys
Dark grey or black trousers
White or bottle green polo shirt
Bottle green pullover/sweatshirt or hoodie
Black school shoes- no trainers. Shoes must be completely black- no coloured laces or soles.
Children who do not conform to the footwear policy i.e. black flat school shoes, no boots, will be told to change into school issue black plimsols for the whole day.
Health and Safety
Shoulder length hair and longer must be tied back at all times in line with our cluster school's policy.
Partial and whole head hair colourants are not acceptable.
Unusual hairstyles are at the discretion of the parents, but please be aware that this is often the cause of disputes between children.
Nail varnish is not acceptable. Children will be asked to remove it in the office.
No trainers to be worn, except for games. Jewellery is not permitted. Where children have pierced ears, only a single plain stud is allowed. If your child wears earrings to school then you must complete an earring indemnification form and return to school. Please use the link below to download this form and return to school.
P.E. kits
From September, children will need the following PE kit;
Plain white t-shirt
Plain black shorts or joggers
Plain black hoody or sweatshirt
Plain black trainers.
Please ensure all uniform and P.E kits are labelled with your child's name. This helps to ensure any lost items are returned to the correct child. If an item of clothing does not have a name then it is extremely difficult for staff to return it to the correct child.
Attendance
As school fully reopened on March 8th, we are back up and running and as the first steps back to "normality" are being introduced nationally, we as a school need to do the same.
We have been sensitive
to the wellbeing of our children and families since the return however we now must work together to ensure children attend school and are on time to catch up on academic and their well being.
To do that in school we will be:
Having a weekly class attendance award. The class with the highest attendance will have the Attendance Trophy for the week.
Weekly DOJO points for 100% attenders and for children whose attendance improves.
Half termly awards and treats from the DOJO shop to celebrate children who have 100% attendance.
Competitions during the year to promote attendance.
We introduced a new traffic light and attendance system in September but It thought it would be good idea to remind us all, staff included as to what we and the Government expect.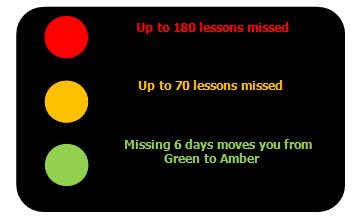 Going through the traffic lights: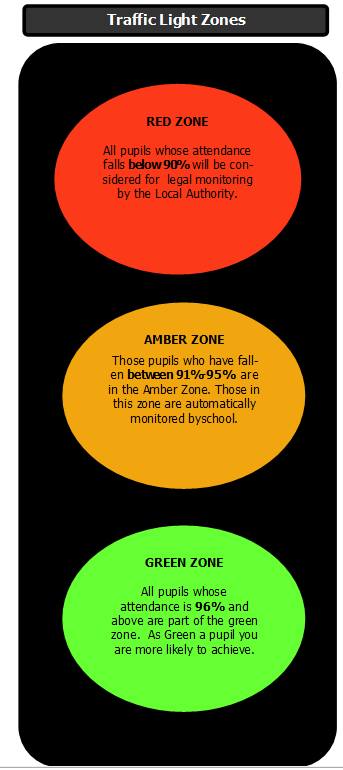 GREEN 97-100% attendance - no action needed your child's attendance is where it should be.
​AMBER 90 -96% attendance - monitoring needed. We will be in touch regularly to support you with your child's attendance.

​RED Below 90% attendance- meeting arranged and a plan put in place.

​
Holidays in Term time are unauthorised time. Given the amount of time children have missed we would hope holidays, however needed will be taken during allocated school holiday time.

If you have any concerns, issues or ideas regarding attendance please get in touch with Mrs Boulton.