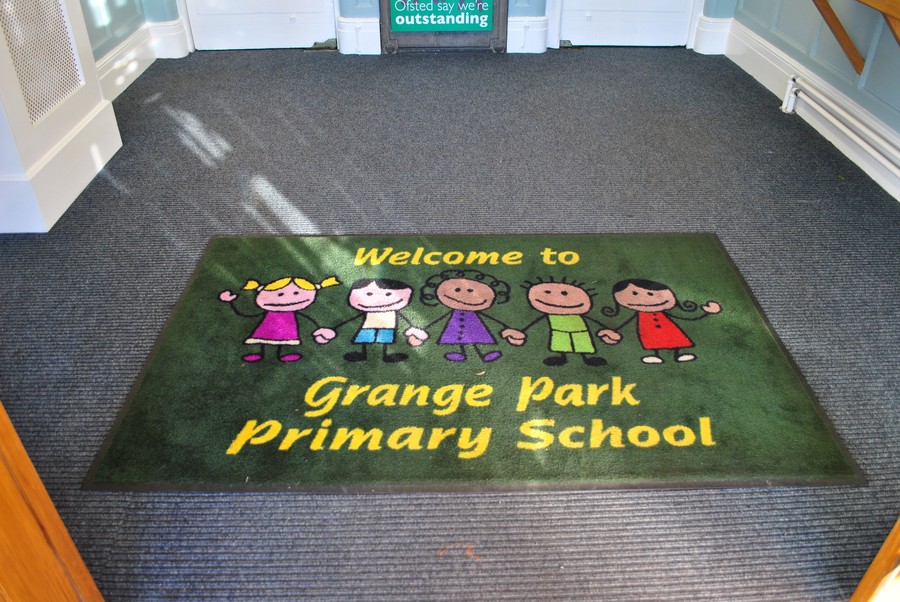 Take a tour
Please take the time to have a look at the pictures on this page. It shows some of the great rooms and outdoor areas that Grange Park has.
Grange Park has a variety of outdoor areas that are used for learning opportunities and of course a little fun.
There is the garden where children can plant seeds and watch them grow. There is also the pond which usually plays host to tadpoles and frogs.
The playground has a large field, a trim tail, an adventure playground, 2 learning pods and a gym.
Foundation stage have their own outdoor area which provides a variety of activities to help children meet the early learning goals. This includes a mud kitchen and tinkering shed.
Each year group has their own classroom. Foundation stage and KS1 all have large classrooms to ensure children are given a variety of opportunities to meet the early learning goals and the National Curriculum targets. The KS1 classrooms both contain a 'mini suite' with 7 laptops for children to access throughout the day.
KS1 and KS2 each have their own library with a variety of texts to encourage children to enjoy reading. The KS1 library also has it's own soft play area which children can access.
As well as the classrooms children also have access to a large ICT suite, equipped with computers, scanners, a printer, microscopes and and Interactive whiteboard.
All of our classrooms our specially designed and equipped to support our PTL literacy programme.
Grange Park has 3 halls including a dedicated dining hall. One of the halls also has a stage which allows us to put on some amazing shows and productions.
Breakfast club runs each morning. Children can enjoy a nutritious breakfast whilst socialising with their friends. The breakfast club room has laptops, 2 televisions with a wii and a wii u, as well as a pool table.