Reading
Phonics
At Grange Park, our reading journey begins in EYFS. Floppy's Phonics is used to support early reading and this continues into Key Stage One. All children at this stage of learning, have a phonetically decodable book that is matched to the phase of phonics appropriate to them.
As our children complete our phonics programme, they progress to an age and stage appropriate reading diet.
Reasons to Read
From Year Two onwards, our pupils have a daily 'Reasons to Read' lesson. This is a sequential and progressive approach to the teaching of reading used consistently throughout our school. These lessons ensure that all reading skills are taught as part of a progressive teaching sequence throughout the week.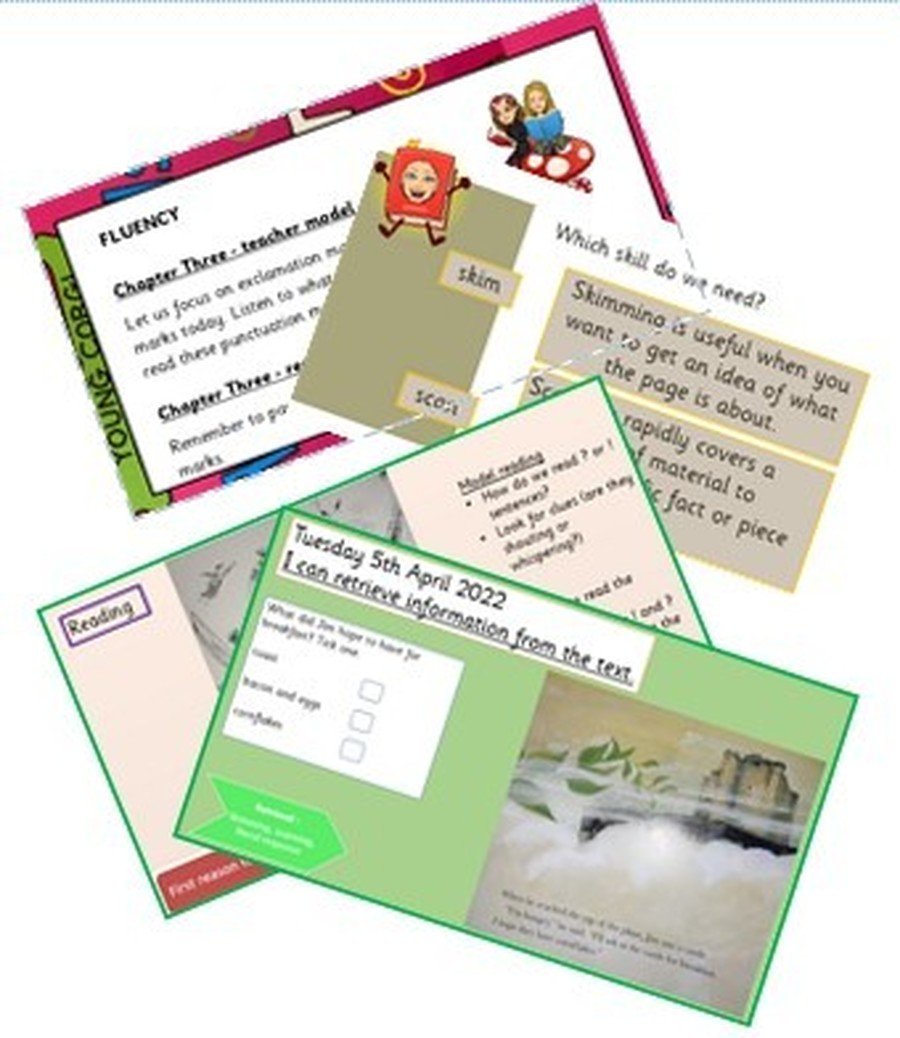 High-quality and ambitious texts are used to support Reasons to Read sessions. In addition to the skill being taught that day, fluency is a focus in every lesson. The children experience modelled reading, paired reading and independent reading. Reasons to Read sessions equip, motivate and inspire our pupils to become life-long readers and the transferable skills they learn in these lessons are applied in their own independent writing.
Home Reading
In conjunction with our Home-School Reading Agreement, it is the expectation that our pupils read at home five times a week. This embeds the skills that are taught during the school day, further develops fluency and allows the power of books to be shared outside the classroom. Parents and carers communicate with staff through Home Reading Diaries (and Class Dojo) and are kept up to date with reading progress. Children's dedication to their reading is recognised and rewarded.
At Grange Park, we used REAL books for children who have completed Floppy's Phonics. This ensures that children are reading a varied range of high quality and inclusive texts. These include texts written by highly acclaimed and well-loved authors from the past and the present. Our children read Shakespeare alongside Walliams, Morpugo and Rowling. They read fiction, non-fiction, traditional tales and comics. Our children are keen to talk about what they have read and recommend books to others.
Reading for Pleasure
Throughout our school, both indoors and outdoors, we have a range of different libraries and reading spaces. For our youngest children, we have a botanical-themed EYFS library named The Glade; based in our Key Stage 1 corridors, we have The Woodland Library; a converted locker room has been transformed into 'The Hideaway'. In addition, the school has a central named The Garden and an outdoor library, lovingly called The Blackbird Library (after nesting blackbirds raised their young here). Children and adults also have access to our PSHE based library in the entrance area of the school.
Storytime is another way that the enjoyment of books and reading is shared with our children. Before home, all classes stop to read their class novel. this might be one that they have been reading in English, a chosen book by the class or a follow-up to a title they have read or an author they have explored. It is a time to sit back, listen to the teacher and get lost in a book. On special days, our pupils have loved taking over storytime and sharing their favorite stories from home.
Children share what they have been reading on our 'Bookshelf' display and staff share what they have been reading too.
OUR READING FOR PLEASURE LIBRARIES
In order to promote a lifelong love of reading, we have created a central library which has a range of books in different genres. Each class visits the library, fortnightly and chooses a book which they can share at home. Overlooking our beautiful Middle Garden, there seemed no better name!

Pupil Voice:
"I chose a book about Space because my Dad is interested in that too, we read it before bed on a night"
"If someone is struggling to put their library book back in the correct place, I always help them to make sure it is alphabetical. I got a librarians badge too"
"I can't believe we can choose any book. I like the ones that are linked to history"
The Glade
Stroll down our EYFS corridor and you will find The Glade. Full of books for little minds, this calming space is a lovely place to stop, pause and look for a book.
PICTURES COMING SOON
The Hideaway
Recently, KS2 reading library has been transformed by our wonderfully talented Mrs Udale. It is now the perfect spot to hang out reading a book by our favourite authors. In this reading library, you will find our age-appropriate KS2 books.
Pupil voice:
"This is the best library I've ever seen, I get really excited to choose a book now"
"I enjoy being a librarian and keeping this space tidy and organised. We always get a prize from Mrs Pyke for helping out"
The Blackbird Library
COMING SOON!
Our Blackbird library was under construction until a family of blackbirds decided it was the best place to make a nest! This library is outside on the reading terrace. As soon as the chicks have flown the coop, we can restart the transformation.
The Woodland
Nestled in our Key Stage 1 corridor, our bookshelves sit among the fairies in our woodland glade. Our home phonic books are here as well as age appropriate REAL books.
Pupil Voice:
"I love reading to Dad on a night. I am reading a superhero book about a dog. I can't wait to know what he did"
"Reading is good. It is my favourite lesson as we get read to and we read too. I like the imagination of books"
The ???? Library
Our PSHE library is a special place situation as you enter the school. We are stocked with books and reading to help with all manners of personal, social and health matters. If you are worried about something, don't quite understand something that you or someone is going through or maybe need a little encouragement, this is the place to be.
So far, a name eludes us so we are letting our pupils decide the name of this calming space.