R.E
Intent
At Grange Park, our belief is that, using an enquiry-based model well, children's critical thinking skills can be developed, their motivation to learn increased, and their knowledge and understanding of, and empathy with people and their beliefs, religious or otherwise, will be enhanced. This approach takes very seriously the philosophy that children are free to make their own choices and decisions concerning religion and belief. RE does not try to persuade but rather to inform and develop the skills with which evaluation can take place.
Implementation
RE at Grange Park is implemented in line with Sunderland Agreed Syllabus for RE. It is approached through the 4 steps of enquiry model. Each unit is based around a key question where the children start at their current level of knowledge and understanding, investigate - developing evidence to enable them to answer the question. The children move on to critically reflect on the knowledge they have gained in order to answer the key question.
RE at Grange Park focuses on critical thinking skills, on personal reflection into the child's own thoughts and feelings, on growing subject knowledge and nurturing spiritual development.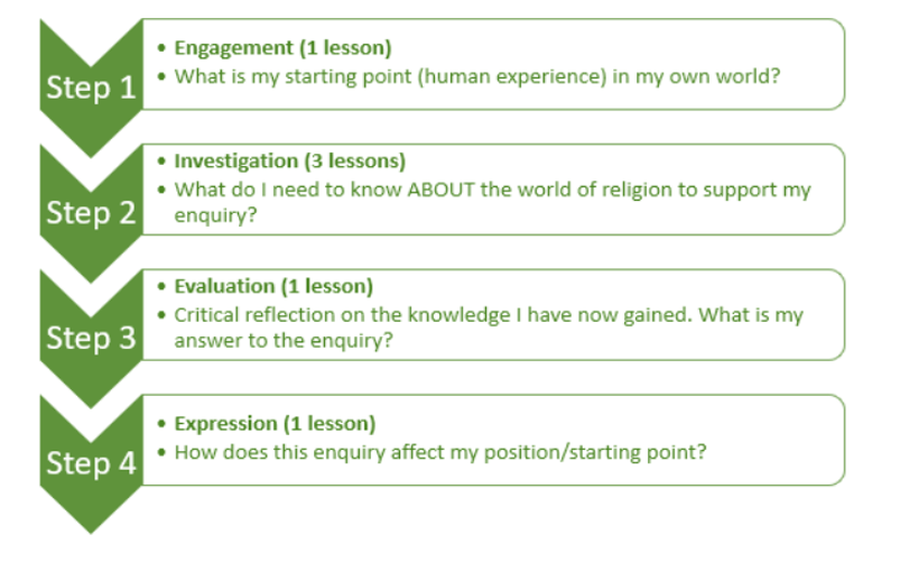 Impact
Children at Grange Park will be well rounded children who show empathy, tolerance and understanding of all faiths through their experiences of RE. They will understand World faiths within the community they live in. Children will develop enquiry and critical thinking skills to pursue their interests within a topic and further questioning.
Through monitoring, the effectiveness of teaching has a positive impact on learning and standards. This is evidenced by:
Pupil voice
Book monitoring
Teacher and Parent voice
Revisit of understanding of faiths at yearly events/key religious festivals.